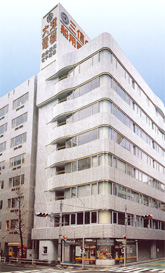 Since starting operation as YAMADA SANRITSU COMPANY in December 1917, we have always exerted our utmost efforts in the belief that we will contribute toward the development of society. We have had strong pride in our activities based on such a belief.
Looking back at the past, TAIYO ELECTRIC CO., LTD., was formed in December 1943 through the merger of three companies, Subsequently, we have been engaged in the manufacture of electric equipment for general ships, and fishing boats in particular. Thus, we have been helping to promote the marine era in Japan. Our contribution in this respect has been rated highly in this country.
In June 1949, Taiyo Electric Co., separated its electric marine equipment division, thereby establishing SANSHIN ELECTRIC CORPORATION.
Since then, we at SANSHIN have been active not only in sales of the products of Taiyo but also in the development, manufacture, and sales of electric marine equipment for ships as well as in ship outfitting work. The foundation of SANSHIN's electric equipment business was built in this way.
Currently, we are meeting customer needs for a variety of products ranging from large-sized marine equipment to pleasure boat articles through our domestic and overseas sales networks.